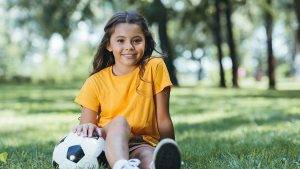 Do you play a contact sport like football or hockey? If so, ask our dentist if you're a candidate for a sports mouth guard. A mouth guard is an oral appliance that prevents trauma to the teeth and gums in the event you're hit in the face.
While you can buy a mouth guard at the store, we recommend getting a custom-fit mouth guard from your dentist. This will make it easier for you to breathe, talk, and focus while you play.
Here's what else you need to know about sports mouth guards.
What to Expect
It'll take about two appointments to get your custom mouth guard. During the first visit, we'll take impressions of your teeth to send to the lab. The lab will then use your impressions to create a custom sports mouth guard.
When you return to our office, your mouth guard will be ready to wear. Our dentist will check the fit to ensure it rests comfortably in the mouth and provides the protection you need.
Nothing will interrupt your season more than an emergency trip to the dentist. The good news is that you can avoid chipping, cracking, or losing a tooth when you
.
Custom vs. Store-Bought Mouth Guards
A store-bought mouth guard is "one-size-fits-all." This means that your mouth guard may fit either too tight or loose. The result is a mouth guard that's neither comfortable nor effective.
When you get a mouth guard from the dentist, you can expect a custom fit. That's because a dental lab uses your impressions to create a mouth guard that fits the unique contours of your teeth and gums.
How to Care for Your Sports Guard
Always
after you wear it. This will help prevent bacteria from building up on the appliance and giving you bad breath.
To clean your mouth guard, gently brush the appliance with a toothbrush and toothpaste. Then, rinse your mouth guard under cool running water. Store your mouth guard in its vented container to dry.
When you're not at a game or practice, the container will prevent your mouth guard from being bent out of shape. Likewise, it'll keep it out of reach of any family pets that may chew on your appliance.
Request an Appointment With Our Muskegon Dentist
Our family dentist in Muskegon is proud to offer preventive dental services, such as sports mouth guards. To request an appointment, please call the dental office of Bruce Jones DDS at (231) 780-5158. You may also fill out our online contact form and someone from our team will reach out to you soon.