A dental bridge is a prosthetic tooth anchored in place by crowns on both sides. Depending on the patient, our dentist may place these crowns on either natural teeth or implants.
As the name suggests, a dental bridge will "bridge" the gap in a patient's smile. It restores the function and appearance of a missing tooth. But it also helps to restore a patient's self-esteem so they can smile with confidence.
Here's what else you need to know about dental bridges.
What to Expect
The
will take two trips to our office. First, your dentist will need to prepare the adjacent teeth to receive dental crowns.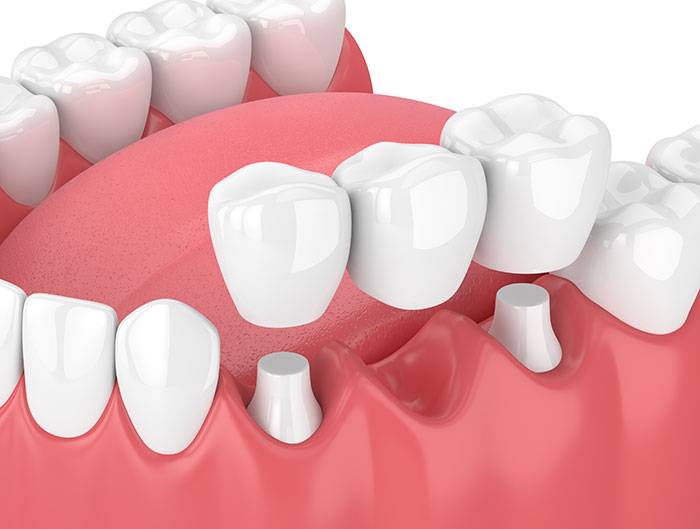 This is a dental bridge that's placed over natural teeth, as opposed to implants.
To do this, Dr. Jones will need to file down the enamel and shape the teeth so the crowns will be able to fit over top. If we're placing the crowns on dental implants, your dentist will skip this step.
Next, we'll need to take dental impressions to send to the lab that will be making your dental bridge. In the meantime, we'll place temporary crowns over your teeth so they're protected until your next appointment with us.
When you arrive for your second appointment, your dental bridge will be ready. The dentist will remove the temporary crowns and replace them with the dental bridge. But before bonding the bridge in place, Dr. Jones will make sure that it's the correct size, shape, and shade. That way, your dental bridge will blend in with the rest of your teeth.
Once your dentist is happy with how the
looks, he'll cement it in place and check your bite.
The result is a dental bridge that looks and feels natural.
Request an Appointment With Us
Our family dentist in Muskegon, MI, is accepting new patients. To request an appointment, please call the dental office of Bruce Jones DDS at (231) 780-5158. You may also fill out our online contact form and someone from our office will reach out to you soon.