Have you recently lost one or more teeth? Do you often feel self-conscious of the gaps in your smile? If so, it's time to schedule an appointment with one of our family dentists in Muskegon, MI. They'll be able to help you explore your tooth replacement options, including dentures.
Here's what you need to know about getting either
at Bruce Jones DDS.
Candidates for Dentures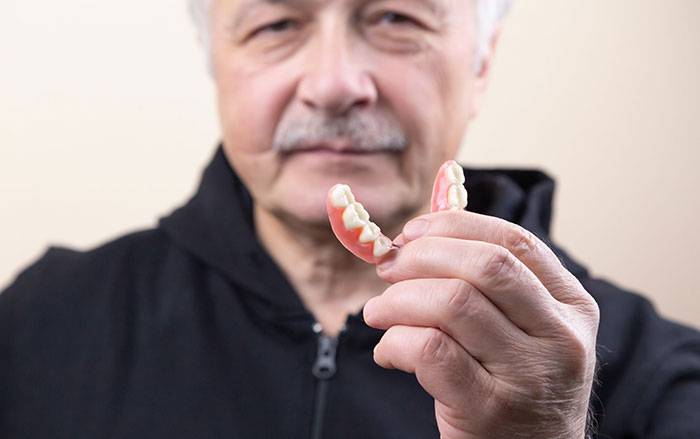 First, it's important that you fully understand your . That's why we recommend that you schedule a consultation with one of our dentists.
During the consultation, our dentists will be able to determine if dentures are the right choice for your smile. They'll also discuss whether you're a candidate for other options, such as a dental bridge or implant.
Many patients choose dentures because they're more affordable than bridges or implants. But the affordability of a procedure ultimately depends on the patient's budget and insurance coverage.
How to Get Used to Dentures
It'll take some time to get used to wearing your dentures. But you should acclimate in no time with a little practice. For example, we often recommend that our patients practice reading out loud from their favorite books once they get their dentures. This helps to retrain the muscles in the cheeks and tongue to speak around the new appliance.
How to Care for Your Dentures
Never let your dentures dry out. When they're not in your mouth, they need to be submerged in a glass of water or denture cleaner. Otherwise, your dentures may crack or warp. Also, you'll need to brush your teeth and gums twice a day to remove plaque and food particles.
If you feel your dentures slipping while out in public, gently bite down and swallow. This will help guide your dentures back in place while being discreet. Some patients also use denture adhesive for extra stability and peace of mind.
Please don't hesitate to contact our office if your dentures are slipping more than they should. We'd be more than happy to take a look at your dentures and refit them as needed.
Request an Appointment With Us
Our family dentists in Muskegon, MI, are accepting new patients. To request an appointment, please call Bruce Jones DDS at (231) 780-5158. You may also fill out our online contact form and someone from our team will reach out to you soon.