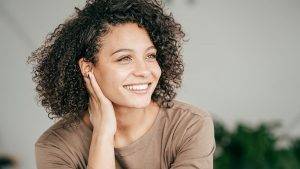 A veneer is a wafer-thin porcelain shell that we bond to the front of a tooth to improve its appearance. Our cosmetic dentist may recommend veneers for front teeth with small chips, cracks, stains, or other minor imperfections. Porcelain veneers may also be used to close small gaps between teeth or to improve the appearance of a misshapen tooth.
Here's what else you need to know about porcelain veneers.
Veneer Procedure
The
takes two trips to our office. During your first appointment, we'll remove a thin layer of enamel from the fronts of your teeth to make room for the veneers. We'll then take dental impressions to send to the lab.
Once the lab gets your impressions, they'll create
that will look and feel natural. In the meantime, our dentist will place temporary covers over your teeth.
When you return for your second appointment, your porcelain veneers will be ready. Our dentist will remove the temporary veneers and replace them with the permanent ones. At this point, your dentist will be checking the fit, shape, and color of your veneers to ensure they match the rest of your teeth.
Don't be alarmed if your dentist needs to make slight alterations to the veneers. This is to ensure your veneers blend in perfectly with the rest of your smile. Once the dentist is happy with how the veneers look, he'll move onto the next steps.
Before we do anything else, we'll need to clean your teeth to avoid trapping any bacteria under the veneers. Next, we'll roughen the surface of your teeth and bond the veneers with cement. Then, your dentist will use a UV light to harden the cement so the veneers stay firmly in place.
The result is a whiter, more attractive smile you'll be happy to show the world.
Aftercare
Your porcelain veneers may last up to 10 years when you practice good oral hygiene. This means brushing your teeth twice a day for at least two minutes at a time. We also recommend that you floss once a day to remove any food particles or plaque that could be hiding between teeth.
Avoid any bad habits that could chip your veneers, such as chewing ice or using your teeth as a tool. For example, some people may use their teeth to open bottles or tear open an envelope. Both of these habits can damage your smile.
Continue seeing our dentist for preventive care, such as teeth cleanings and exams. During your appointment, Dr. Jones will examine your veneers for any signs of wear and tear, recommending replacement as needed.
Learn More About Porcelain Veneers
Ready to schedule an appointment with our cosmetic dentist in Muskegon, MI? Please call the dental office of Bruce Jones DDS at (231) 780-5158. You may also fill out our online contact form and someone from our team will reach out to you soon.