A dental implant is a
that's made out of a titanium alloy. This titanium alloy is biocompatible, which allows it to fuse to your jawbone as if it were a natural root. Once several months have passed and you're completely healed, Dr. Jones will place an abutment and crown over top of the implant.
Together, the implant, abutment, and crown will give you the full function and appearance of a natural tooth.
Here's what else you need to know about getting dental implants.
Candidates for Dental Implants
You may be a candidate for dental implants if you recently lost one or more teeth. You'll also need sufficient bone density in your jaw to support the implants. Otherwise, your dental implant won't create a stable foundation for the abutment and crown later.
It's preferable that you be a non-smoker. This is because smoking reduces your body's ability to heal itself after surgery.
Since each patient is different, you'll need to schedule a consultation with our dentist to determine if you're truly a candidate for dental implants.
Our other dental bridges and dentures.
include
Dental Implant Process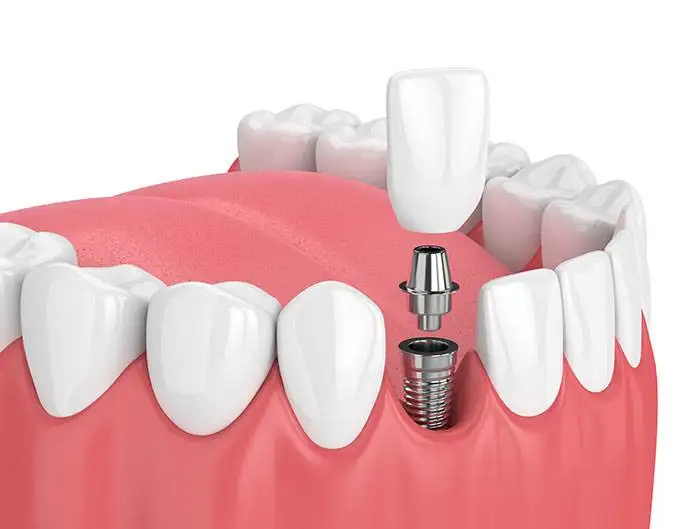 Pictured from top to bottom is the crown, abutment, and implant.
The traditional dental implant process takes place over several months. During the first appointment, the doctor will make an incision along the gums and insert the implant into the jawbone. He'll then place a few sutures along the surgical site so the tissue can heal.
The implant will then bond to the jawbone over the course of several months. This is a process called osseointegration. Once the implant has completely fused, Dr. Jones will place the abutment and crown over top.
Advantages of Dental Implants
Dental implants look and feel like natural teeth. This means that you'll be able to enjoy all of your favorite foods without worrying about your new teeth slipping. Unlike dentures, dental implants are bonded to the jawbone and provide the ultimate stability while you enjoy your meal.
Dental implants also prevent bone loss in the jaw. That's because an implant exerts pressure on the jawbone like a natural tooth root would. This tricks the body into thinking that the tooth is still there. That way, the body doesn't absorb the minerals in your jaw to use elsewhere.
Request an Appointment With Us
Our dental implant dentist in Muskegon, MI, would be more than happy to help you explore your tooth replacement options. To request an appointment, please call the dental office of Bruce Jones DDS at (231) 780-5158. You may also fill out our online contact form and someone from our team will reach out to you soon.