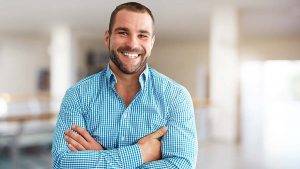 Do you often wake up with tooth or jaw pain? Do you experience unexplained daytime drowsiness? Does your partner ever hear your teeth squeaking in the middle of the night? If so, you could have a condition called bruxism that causes you to grind and clench your teeth while you sleep.
Most people are unaware that they even have bruxism. That's why it's important that you see our dentist every 6 months for preventive care. Dr. Jones will be able to detect the , such as worn enamel, and recommend a treatment plan to protect your oral health. Often, this involves wearing a night guard while you sleep.
Here's what you need to know.
How Bruxism Affects Your Health
If left untreated, bruxism may lead to chipped or cracked teeth. It may also cause uneven wear patterns on the chewing surfaces of your teeth, as well as sensitivity to heat and cold. Patients with untreated bruxism may need fillings, crowns, or even tooth replacement options at some point.
How a Night Guard Works
A night guard is an oral appliance that you wear while you sleep. It fits over the top teeth and prevents them from making contact with the bottom teeth. When you bite down, your teeth will meet the protective material of the night guard.
Your night guard will only work when you wear it. For this reason, it's important that you wear your night guard every time you go to sleep. Otherwise, you'll continue to grind and clench your teeth at night.
While you can buy a generic night guard at the store, these appliances are often uncomfortable. As such, patients may remove them in the middle of the night. That's why we recommend a custom night guard from our dentist.
A custom night guard will have a comfortable fit so you can enjoy a good night's sleep.
What to Expect During Your Appointments
It'll take two visits to our office to
. During your first appointment, we'll take impressions of your teeth to send to the lab. From there, the lab will use your impressions to create a custom night guard.
In the meantime, our dentist will discuss other ways to help reduce or eliminate night grinding. This may include avoiding chewing gum, alcohol, and caffeine, as these increase your risk of teeth grinding.
When you return for your second visit, your night guard will be ready. Dr. Jones will check the fit of the guard to ensure it's comfortable for you to wear.
When you come in for your routine teeth cleanings, be sure to bring your night guard with you. During your visit, we'll examine the night guard for any signs of wear and tear that would indicate it's time for replacement.
Your night guard will wear thin over time so it's important to replace the appliance once it reaches the end of its functional lifespan.
Request an Appointment With Us
If you suspect you may be grinding or clenching your teeth at night, please don't hesitate to schedule an appointment with our office. Our dentist in Muskegon, MI, would be more than happy to see if a night guard can help.
To request an appointment, please call the dental office of Bruce Jones DDS at (231) 780-5158. You may also fill out our online contact form and someone from our team will reach out to you soon.