There's nothing more frustrating than having to wait weeks for a lab to make your new dental crown. That's why our dentist in Muskegon uses CEREC crowns. Through CAD/CAM technology, we're able to plan and place your new crown in one appointment.
Here's what else you should know about CEREC crowns.
Candidates for CEREC Crowns
A
restores the full function and appearance of a fragile tooth. As such, you may be a candidate for a CEREC crown if you need to restore a badly cracked or decayed tooth. Our dentist may also recommend a CEREC crown to improve the appearance of a misshapen tooth.
To determine if you're truly a candidate for a CEREC crown, you'll need to schedule an appointment with Dr. Jones.
What to Expect
Your comfort is of utmost importance during the
. That's why we'll inject a local anesthetic into the soft tissue by your tooth. You'll feel a small pinch but the anesthetic will work quickly to numb the tooth and surrounding gums.
Once you're comfortably numb, Dr. Jones will prepare the tooth to receive a crown. This involves filing down and shaping the tooth so the crown can fit on top. A crown covers the entire visible portion of the tooth above the gum line, as shown in the diagram below.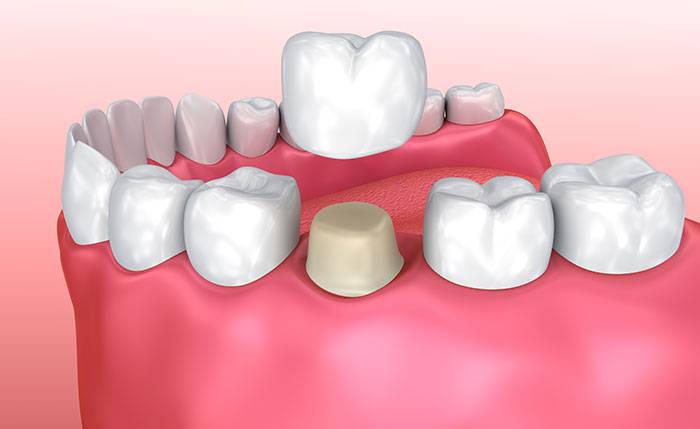 When the tooth has been prepared, we'll use a handheld scanner to take digital dental impressions. These give us accurate and highly detailed images of your teeth so we can create a custom crown. These images are then sent to our computer, which allows your dentist to start designing your CEREC crown right in front of your eyes.
Once the design is ready, your dentist will send it to the milling machine in our office. This machine will sculpt your crown out of a block of ceramic that matches the color of your teeth.
When the crown is ready, your dentist will place it over your tooth to see if he needs to make any final adjustments to the fit, size, or shade. That way, your new crown will look natural and blend in with the rest of your smile.
Next, your dentist will cement the crown in place over your tooth. Dr. Jones will also check your bite to ensure that the fit of your crown is perfect. The result is a beautiful, healthy smile that you'll be proud to show the world.
Request an Appointment With Us
Looking for a new family dentist in Muskegon, MI? Good news! We love new patients and would be more than happy to welcome you to our practice.
To request an appointment, please call the dental office of Bruce Jones DDS at (231) 780-5158. You may also fill out our online contact form and someone from our team will reach out to you soon.